【Kita City】population about 120K There are many departmental stores and skyscrapers in huge downtown "Umeda". Furthermore, as the entrance of Kansai area, there are many people around the stations, and oneroom is many as well.

【Nishi City】population about 90K. There are 4 rivers that pass through this area. More apartments constructed especially for young people, because well-balanced distance between residential area and work place.

【Minato City】population about 80K As the bay area which face to Osaka bay, there are many aquariums, marketplaces, and theme parks. Since it had most population before 1945, it has plenty of old apartments because the area has a record that it used to home largest population in wards in Osaka.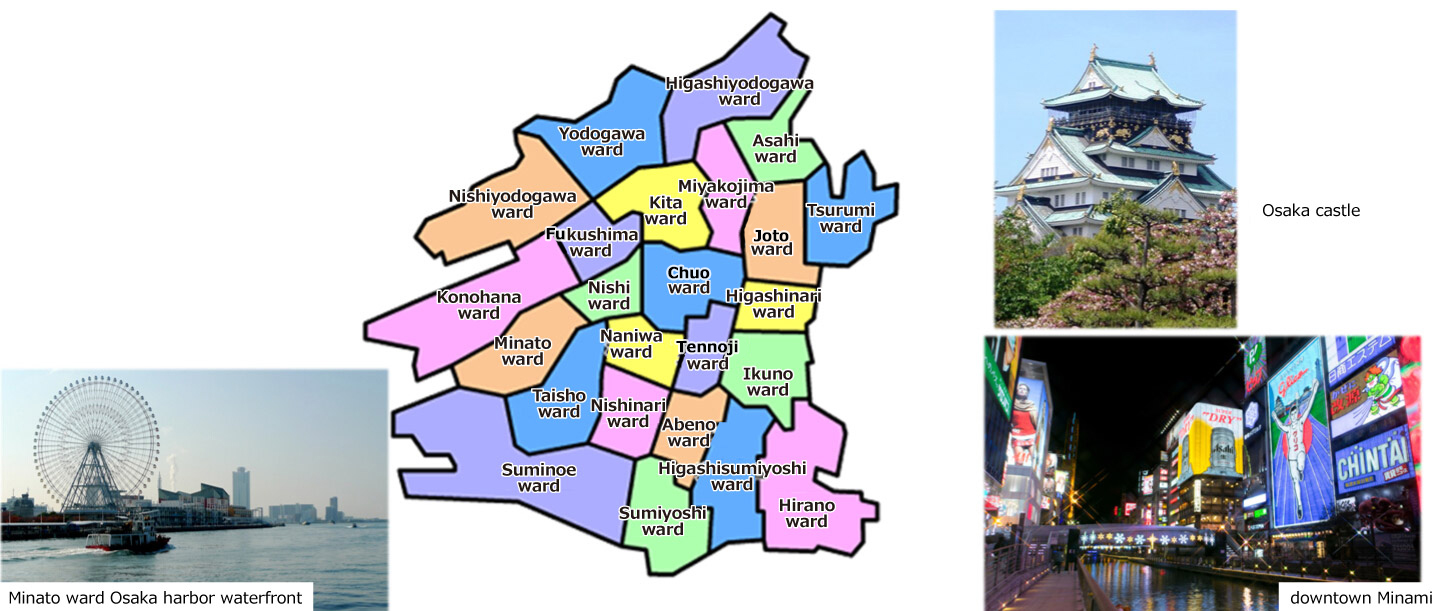 【Tennoji City】population about 70K The exclusive residential area in Osaka. Junior high and high school, hospital in are there. Tennoji Park and Zoo, museums, temples are also famous as tourist destination.
【Chuo City】population about 90K Prefectural Office is located location. Many of the old office building have been rebuilt to high-rise apartment, and it's population growth rate is the highest in all the words in Japan.It has the largest castle-Osakajyo and half of the downtown\Minami\"."
【Naniwa City】population about 70K It has half of Kansai area No.1 downtown "Minami". It is popular for single man, and there is plenty of oneroom. Redevelopment projects of central Osaka are progressing,to make offices,commerce,redidence all together.
【Yodogawa City】population about 170K Usually called "Sub center of Osaka", as northern gate of Osaka, many companies and stores are located here. Family-type condos,apartments are being constructed now.