【Itabashi City】population about 560K There are many separate houses in the area, mid-size developments are under process for students and young couples to live because it's very convenient area to access Ikebukuro and Shinjuku.

【Nerima City】population about 720K Many people go to Tokyo from here. There are also many family apartments. The border of Tokyo and Saitama prefecture.

【Suginami City】population about 560K There are many separate houses, meanwhile many people who live in apartments here , and work in Shinjuku. There are several exclusive town such as Ogikubo.



【Setagaya City】population about 900K An exclusive residential area where the rich family usually live in this city, such as Seijo, etc..

【Ota City】population about 710K One of the high-end residential area. Denenchofu is famous town, but there are also mid-class cities like Kamata and they are expected to be developed.

【Meguro City】population about 270K There are many fancy and sophisticated towns, such as Jiyugaoka・Gakugi-Daigaku, so it is popular to young people.



The following areas which are full of old downtown emotion.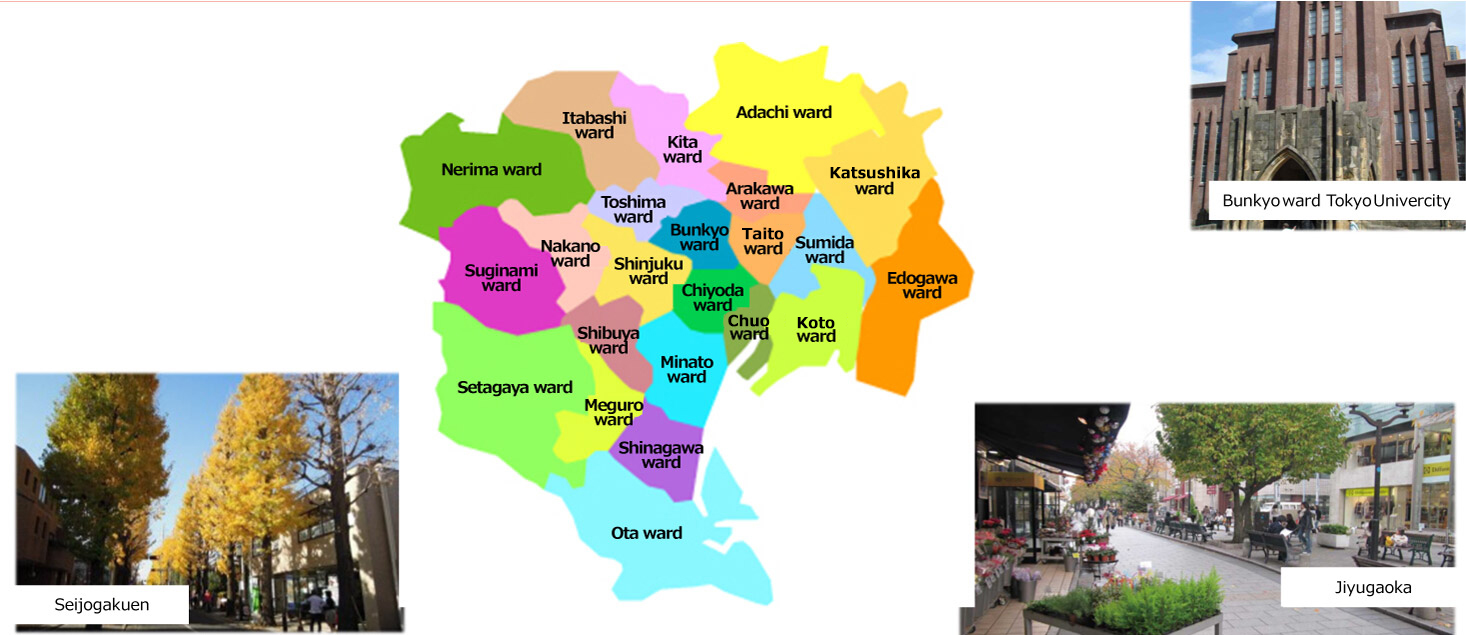 【Edogawa City】population about 680K The city has the largest number of children in 23 wards, and there are also many farmer families. It is still conception stage, but the plan which make the railways extend to Ikebukuro is planning.
【Bunkyo City】population about 210K As the city where Tokyo University is located, many families who are interested in high education live here. Most of the residences are small-sized and luxurious properties.
【Kita City】population about 340K Many apartments around Akabane station since this area is convenient to commute to Tokyo.
【Adachi City】population about 670K Opened Recently, and that made the city easier to access to center of Tokyo. More and more young family tend to purchase new mansions here.
【Arakawa City】population about 210K There are many small factories in this downtown, as well as Asian live here.
【Minato City】population about 240K The bay area and Daiba area are well developed and ordered, is a emerging area for tourism.

【Chuo City】population about 140K It has Japan's largest and most luxurious shopping district, Ginza. It is also famous for Tsukiji market(fish market) and Kabukiza(Japanese traditional performance arts).

【Chiyoda City】population about 50K The center of capital, where National Diet Building is. The population is small, but visitors purchase Japanese consumer electronics and have a look at subculture in Akihabara.

【Taito City】population about 190K This area is famous among tourists from abroad because of Sensoji, Ueno park and Ueno zoo. The downtown cultures such as Sansya festival also attract people.

【Katsushika City】population about 440K There are many huge family, and relatively the number of apartments is few. Compared to Asakusa, few foreigner visitors tourists visit here, but it is a place where is full of downtown culture, such as Horikiri iris garden which has 7700 ㎡ and Shibamata Taishakuten temple which has 380 years history

【Sumida City】population about 250K The Tokyo Skytree which is the most popular for foreigner tourists will be developed as one of the downtowns. Many oneroom and family-type apartments are being constructed.
【Toshima City】population about 290K As the northern gate of Tokyo, it has Ikebukuro station, and many foreigners live here. The development around the station is processing.

【Nakano City】population about 330K As 3 universities come in, it is becoming different. In the daytime, about 20thounds people increased, most of them are students, and the number of oneroom for students is also increasing.

【Shinjuku City】population about 330K As the western gate of Tokyo, the developments around Shinjuku station will be finished in 2015. As the building constructed, the population will increase as well.

【Shibuya City】population about 220K As the southern gate of Tokyo, it is popular among young people. Several railways pass through here, so the visitors increased quickly. Some projects around Shibuya station are going on, it is expected to make the city be more flourished in the future.

【Shinagawa City】population about 380K Many development projects have formed mega business districts near around Gotanda, Osaki station. High condos are under construction. A huge population increase is expected.

【Minato City】population about 240K There will be a new station nearby Shinagawa station in 2020. The construction has started in 2014, and prices of properties are increasing. High-rise condos are popular near its coast area, and small condos get more popularity in inland.

【Koto City】population about 490K The development for Tokyo bedroom town proceed in landfills. Just like Chuo-Ku, since the prices of high-rise apartment are affordable, rich young families tend to move here.

【Chuo City】population about 140K This bay area has the host city of Tokyo Olympic games, many projects are progressing rapidly, meanwhile young families tend to move here which cause the population increased.